When we bought our charming Victorian-style home four years ago, we knew that each room was going to need some TLC. Built in 1905, this house had great bones: working pocket doors, detailed woodwork, and a doublewide lemonade porch you'd be hard-pressed to find in newer homes today. We fell in love and so we signed up for a lifetime of renovations.
The previous homeowners had themed each room, but none of them felt like a cohesive story. Our kitchen was the worst offender: drab, old, and mismatched everything. The floors were vinyl tiles that were peeling around the edges and the pantries had makeshift doors that were once old window shutters.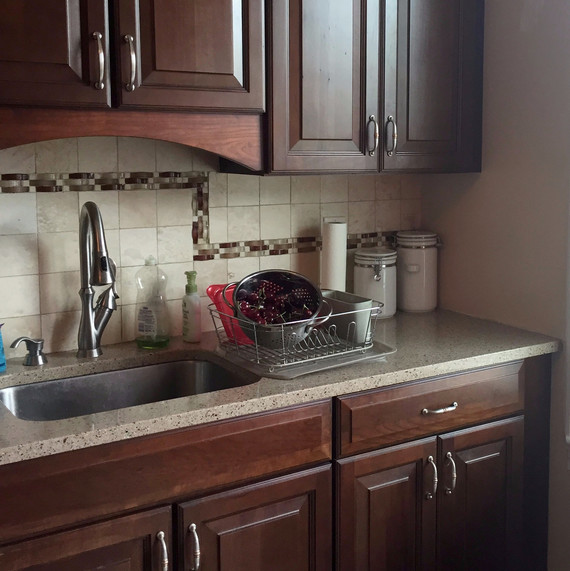 We didn't have the money for a gut renovation, let alone a contractor, but we also knew the kitchen needed a complete overhaul. Another hurdle: we needed a working kitchen throughout our project. So, we decided to work in sections, which made it easier to pay for items as we went. There were two things that we spent the bulk of our budget on: new countertops and refinishing our solid wood cabinets.
To start, I needed a vision board: I spent hours looking at paint samples because paint is the one thing that can instantly transform a space – make it brighter, happier, even more inspired. I wanted a neutral color that felt clean and could take on fun accents, plus, if we ever sold the home could be a blank space for others. I went with a Behr paint in Ancient Stone – a blue-based, cool gray (did I mention I love the color gray?). We spent about $250 on paint and another $150 on spackle.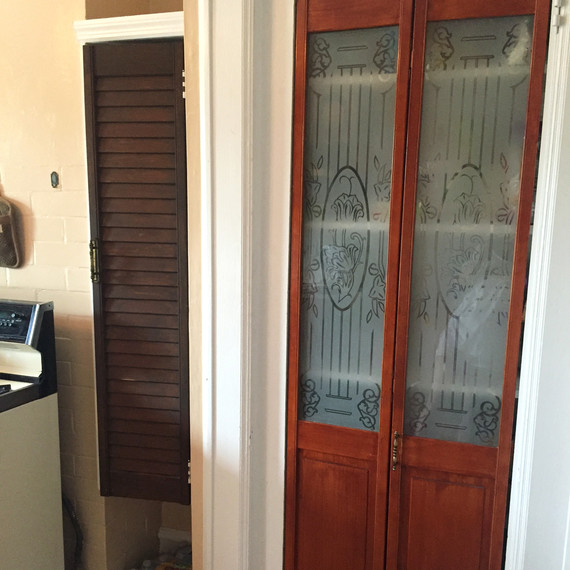 Next, came the demo work on the pantries. We removed old molding and shelving, patched up and sanded the plaster walls, and gave everything a fresh coat of paint. My husband had the great idea to use unfinished steps as shelves because they would never bow and they already had a bullnose edge which meant less sanding for him. We purchased 15 solid oak stair treads that we cut to the right size for each pantry. We spent about $360 on the stair treads and another $12 on polyurethane to seal them in their natural color. We also needed wood to create the base support for each shelf and spent about $150 on that.
Since our pantries were an uncommon size, we had no choice but to invest in custom doors. We found a great local store in our area that was able to accommodate our needs and for a very reasonable price. We paid about $575 per door. And, we were more than happy to support a small business in our town.